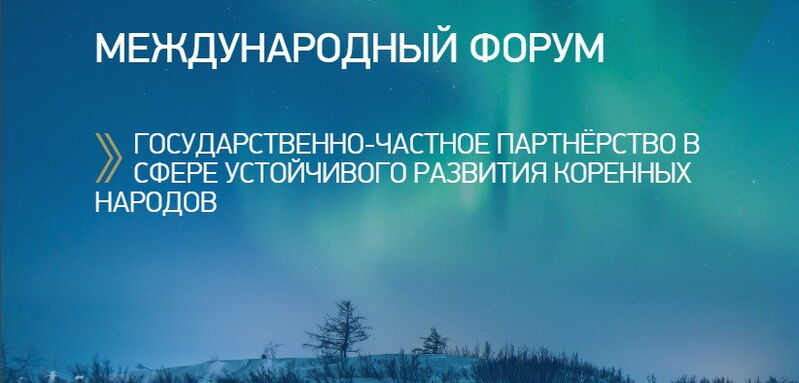 The International Forum "Public-Private Partnership in the field of sustainable development of Indigenous Peoples" will be held in Murmansk on October 9-12, 2022. The forum will consider standards of corporate strategies and business policy in relations with indigenous peoples, projects and programs for their development, systems of consultations and agreements of the parties, approaches to state regulation and the effectiveness of indigenous peoples' participation in decision-making.
The event will be attended by representatives of the authorities of the regions of traditional residence of indigenous peoples, experts of non-governmental organizations working in the field of sustainable development, protection of human rights and indigenous peoples, multilateral development institutions, industrial companies operating in places of traditional residence of indigenous peoples, associations of business communities.
The business program includes a plenary session, five panel sessions and round tables devoted to various aspects of the sustainable development of indigenous peoples, as well as their effective relationships with industrial companies and government structures
The key topic of the forum should be the assessment of the possibilities of forming a National standard in the field of sustainable development of indigenous peoples of Russia and ensuring their rights in the context of economic development. At the end of the forum, a consultation round will be held aimed at finding effective approaches to improving the relationship between business and indigenous peoples, as well as the formation of expert potential in this area.
As part of the cultural program, participants will visit the nuclear icebreaker "Lenin" and get acquainted with Murmansk during the tour, attend the performance of the theater of the Ob-Ugric peoples "The Sun" "I am a man!" and go to the exhibition Sami village "Sam Syit".
The forum is organized by the Federal Agency for Nationalities, the Ministry of the Russian Federation for the Development of the Far East and the Arctic, the Ministry of Foreign Affairs of Russia, as well as PJSC MMC Norilsk Nickel. The partners of the event are the Association of Indigenous Peoples of the North, Siberia and the Far East of the Russian Federation and the Association "National Network of the Global Compact".
You can get additional information and register to participate in the forum on the website.