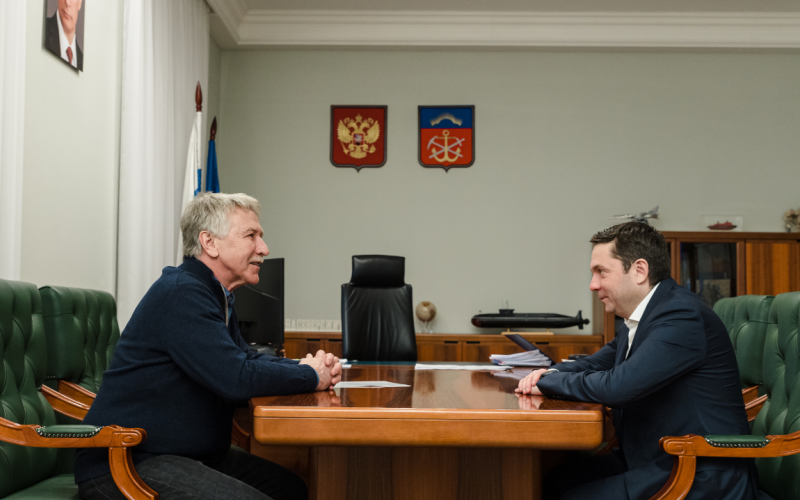 The Governor of the Murmansk Region Andrey Chibis held a working meeting with the Chairman of the Management Board of PJSC NOVATEK Leonid Mikhelson.
NOVATEK is the largest private producer of natural gas in Russia and one of the key partners of the Murmansk Region. A long-term cooperation agreement has been signed with the company until 2029. Within the framework of the agreement, a number of projects significant for the region's economy are being implemented in the Kola Arctic, including the Center of Large-tonnage Offshore Structures in Belokamenka.
"Literally on the weekend I visited the CSCMS. The scale is impressive, as is the pace of construction. For us, as I have repeatedly said, it is extremely important that such a large project, or as it is popularly called "the main construction site of the Arctic" is being implemented in the Murmansk region," the head of the region said and thanked Leonid Mikhelson for the company's contribution to industrial development and filling the budget of the Murmansk region.
The actual volume of revenues to the consolidated budget of the Murmansk region from NOVATEK-Murmansk LLC for the period from 2020 to 2022 amounted to 667.1 million rubles. And the total receipts, including tax payments of contractors of NOVATEK-Murmansk LLC, for this period amounted to almost 5.5 billion rubles.
In addition to the main agreement with the company, 5 additional significant social projects were concluded on the territory of the region. One of them is the MSTU transformation project. With the help of the company, measures were taken to renovate the university's property complex and the "L" building was repaired. Students and cadets of MSTU had the opportunity to attend lectures in classrooms that meet modern requirements. The dorm and the university library have also been renovated. Financial assistance was also provided to the Murmansk Industrial College and the sports school for winter sports for the purchase of equipment and equipment.
Thanks to the support of the company, work has begun on the beginning of the reconstruction of the Rodina cinema. The governor stressed that the Northerners have a very reverent attitude to this object and its revival means a lot to everyone.
In addition, medical institutions in the region are being equipped under the agreements. Motor transport is being purchased – two ambulances were purchased for FMBA No. 122 in BUT Alexandrovsk.
Another important project is the support of comprehensive programs for the education and development of children with a high level of intelligence and career guidance activities for schoolchildren.
"Special thanks for the support of socially significant industries in the region both within the framework of our agreements and in what you respond to additionally," the head of the region said at the end of the meeting.
In total, NOVATEK has provided assistance for the implementation of social projects in the amount of more than 850 million rubles.

/ Ministry of Information Policy of the Murmansk Region /