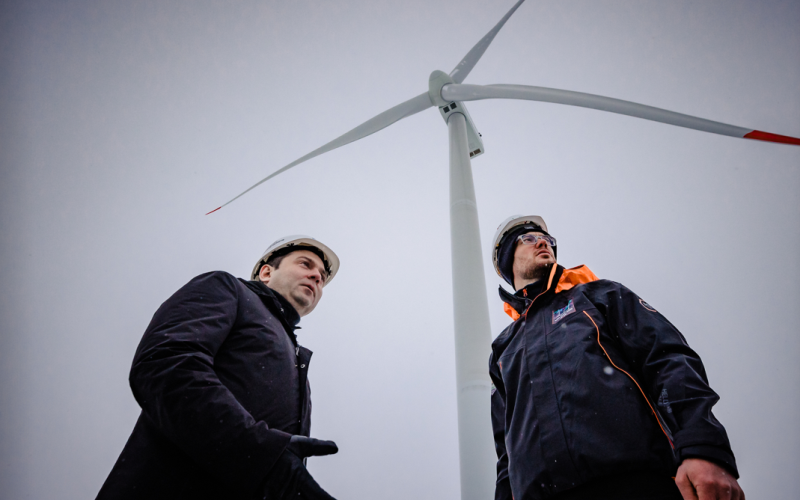 Today, Governor Andrey Chibis visited the Kola Wind Farm on a working trip. The Kola Wind Farm is a strategic investment project of the Murmansk Region. The project is being implemented by a subsidiary of PJSC Enel Russia – LLC Enel Rus Wind Cola.
The laying of the first stone on the site of the future largest wind farm beyond the Arctic Circle took place in September 2019. This year, the work has been completed – to date, 100% of wind power installations – 57 units - have been installed on an area of 257 hectares. At the moment, commissioning works are being carried out. Some of the wind turbines are already functioning.
The first synchronization on one of the turbines was carried out today by Governor Andrey Chibis.

"This is one of the most powerful wind farms in the Russian North with a capacity of 201 MW. Environmentally friendly energy will go into the unified energy system of our country. The appearance of such a high–tech facility, which was built despite the sanctions pressure, is a significant event for the region. In addition to the undoubted benefits in terms of ecology, the wind farm will bring 20 billion rubles of tax revenues to the treasury of the Murmansk region," the head of the region stressed.
The governor noted that this wind farm is the first in the region, but perhaps not the last – other potential investors are also interested in the wind of the Murmansk region.

According to Oleg Kosmenyuk, Deputy General Director of PJSC Enel Russia, Director of Generation, 68% of the equipment on wind turbines is Russian-made. The first commissioning is scheduled for January 2023. The wind farm will be able to produce about 750 GWh per year, while avoiding the emission of about 600,000 tons of carbon dioxide into the atmosphere.
/ Ministry of Information Policy of the Murmansk Region /