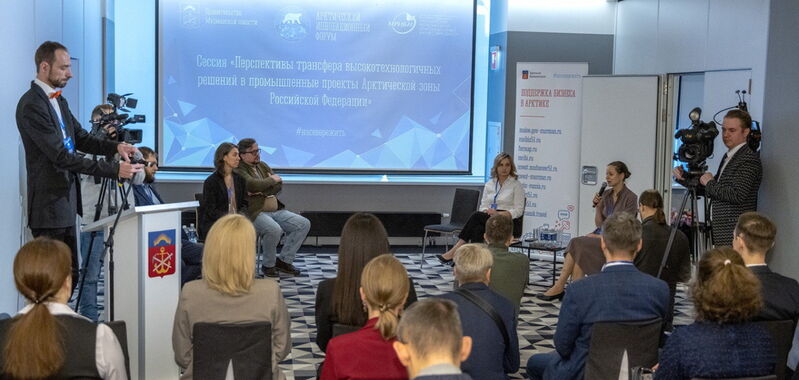 The Arctic Innovation Forum was held in Murmansk today. The key event was an expanded meeting of the Coordinating Council of the Murmansk Region on Scientific, Technical and Innovation Policy together with the Council for Export and Development of Small and Medium-sized Enterprises under the Government of the Murmansk Region. Governor Andrey Chibis welcomed the forum participants.
"Dear friends! I welcome everyone to the Arctic Innovation Forum. We live in a unique place and at a unique time. Innovations, ideas and bold technological solutions are in demand today more than ever. The Murmansk region has natural resources and logistical potential, which provide new opportunities. This is especially important at a time when our usual technological partners have turned away from us. The largest and most efficient companies operate in the region. And today, new opportunities are opening up for all scientists, innovators, and active specialists. Don't miss them – be brave! What you dreamed about can really come true today. I wish you productive and productive work, so that your ideas, solutions, and innovations can be translated into real life, giving a new impetus to the development of our region, country, and the Arctic," the head of the region said in a video greeting.
Within the framework of the coordination council, an award ceremony was held for the winners and laureates of the Arctic Accelerator of Innovative Projects, the annual regional competition "Entrepreneur of the Year" and the regional stage of the All-Russian competition "Best Social Project 2022".
"Today's forum is the final stage. For the first time, we held an Arctic Accelerator of innovative projects. During the year, everyone could apply and submit their idea. In total, 224 of them were submitted. 15 projects were in the final. The most active participants were Murmansk and Apatity. But the geography of the accelerator is wide – residents of Moscow, St. Petersburg, Chelyabinsk, Cheboksary took part in it," said Vice-Governor Olga Kuznetsova.
The projects were presented in three areas – medicine and biotechnology, industry and energy, as well as information systems.
The Forum is organized by the Government of the Murmansk Region together with the Murmansk Regional Innovative Business Incubator.
The main purpose of the forum is to popularize the direction and formation of new projects and ideas. The Arctic Innovation Forum will contribute to the positioning of the Murmansk Region as the center of the innovation agenda in solving technological problems in the development of anchor projects in the Arctic.
/ Ministry of Arctic Development and Economy of the Murmansk Region /