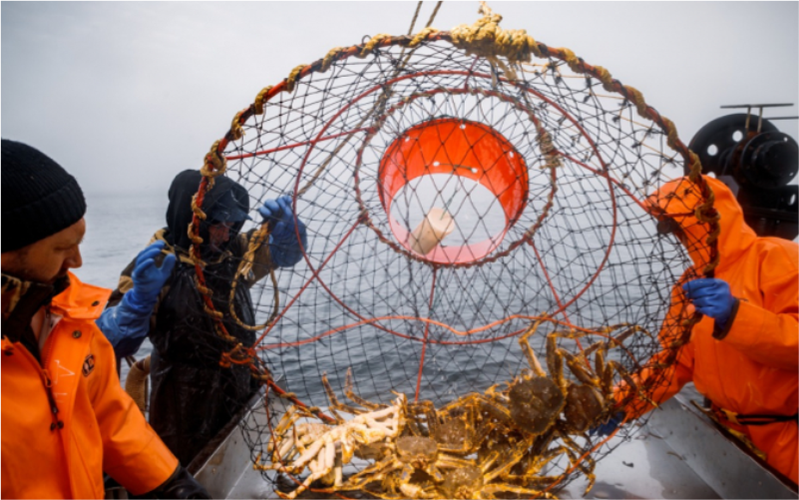 A pilot project for the transportation of live crab from the north to the capital by highways has been successfully implemented by specialists of the Antey Group of Companies, a resident of the Arctic zone of the Russian Federation.
8 tons of opilio strigun crab were caught in the waters of the Barents Sea and delivered by two car containers to a special overexposure near Sheremetyevo Airport.
The unique transportation system was developed by Nikolay Perestoronin, Director of the Department of Murmanmoreproduct of Antey Group. For the pilot project, standard Eurocubes were upgraded and mechanical life support units were connected to them.
"It was the first time we transported a live crab by road. We used two trucks, each with 4 tons of crab in 16 Eurocubes filled with water. Each cube is connected to a system that provides continuous seawater circulation, air supply and temperature maintenance at a level of +1 to +3 degrees. In addition, the system has several degrees of protection. The opilio shearer crab is very sensitive to environmental changes, so we have calculated all the details of the new transportation technology," Nikolai Perestoronin said.
The cars covered the way from Murmansk to Moscow in 28 hours. The special cargo was accompanied by specialists who monitored the operation of life support systems. Now the crabs will stay in a special "hotel" for several days - overexposure for crabs. As soon as they adapt, the cargo will be sent by airlines to the countries of Southeast Asia.
"New realities forced us to look for new logistics routes and sales markets. But of course, these are great opportunities for us. This pilot project has shown that we can open a direct air corridor between Murmansk and the countries that buy live crab. Traditionally, these are Southeast Asian countries, but we are ready to develop new markets, for example, in the Middle East. We see that we can deliver live crab in the best quality," said Azamat Yusupov, Vice President for Trade Development and New Technologies of Antey Group.
Recall that "Antey" managed to successfully conduct an experiment on the transportation of freshly frozen crab by the Northern Sea Route from Murmansk to Petropavlovsk-Kamchatsky. Several more variants of logistics routes, including rail, are being developed now.
The Antey Group of Companies is one of the largest Russian holdings in the extraction and processing of fish and crab. Starting work in the Far East, Antey expanded its regions of presence, becoming the only company in Russia engaged in the extraction and processing of crabs in the Far Eastern and Northern fisheries basins of the country. The fleet of the group of companies includes 56 vessels of various types and more than 1,000 personnel.
/Far East and Arctic Development Corporation/