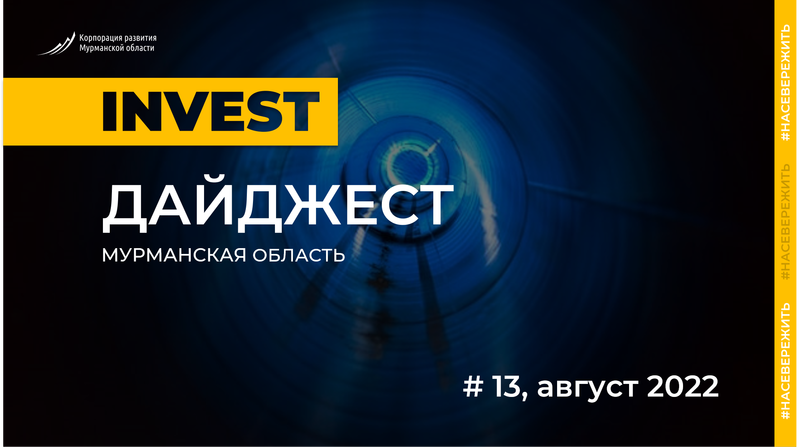 The Investment portal of the Murmansk Region published a digest of events for August 2022 that most affected the investment climate according to the regional Development Corporation. All details can be found in the full version of the digest.
The new collection contains up-to-date information on the implementation of the most important investment projects, the results of federal ratings, opinions of regional leaders, federal experts and independent opinion leaders.
In August, among the main events was the announcement that Gazprom was starting to design the gasification of the Murmansk region. This was reported in the regional government following a meeting between Governor Andrey Chibis and Chairman of the Gazprom Management Board Alexey Miller in St. Petersburg. It is planned that gasification will create about 20 thousand new jobs and attract about 400 billion rubles as investments. In addition, a landmark event related to the development of the Northern Sea Route took place in the summer - Prime Minister Mikhail Mishustin approved a plan for the development of the Northern Sea Route until 2035. The Murmansk transport hub has become one of the important directions. According to the First Deputy Prime Minister Andrei Belousov, the development of MTU is one of the priority infrastructure projects in Russia and is extremely relevant in the context of the sanctions pressure exerted on the country.
Another news that attracted attention to the Murmansk region was the statement that Eurochem will invest about 100 billion rubles in the development of the Kovdorsky GOK in the next 10 years. The contract was signed by the head of the region Andrey Chibis and Chairman of the Board of Directors of EuroChem Igor Nechaev.
In August, the number of residents of the Arctic zone in the Murmansk region increased to 164. Residents plan to implement new investment projects in the fields of tourism and catering in Murmansk, Apatity, Kirovsk, Kola and Kandalaksha districts. One of the residents with the help of "Arctic benefits" plans to establish the production of industrial telephones in Murmansk. In total, the new projects will bring another 300 million rubles of investment and more than a hundred jobs.
/ Ministry of Arctic Development and Economy of the Murmansk Region according to the Murmansk Region Development Corporation /