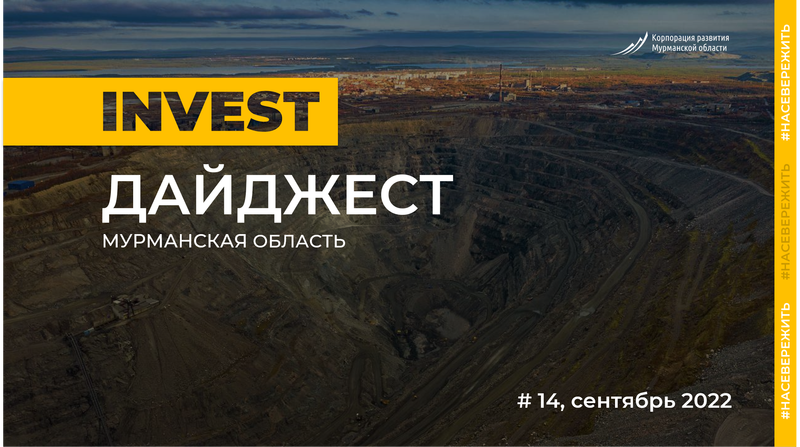 The Investment portal of the Murmansk Region published a digest of events for September 2022 that affected the investment climate in the region according to the Development Corporation. All details can be found in the full version of the new release.
The collection contains up-to-date information on the implementation of the most important investment projects, comments from the leadership of the region, federal experts and independent opinion leaders.
Among the main events over the past month, an increase in the industrial production index in the Murmansk region for the first half of 2022 by 5.5 percent was noted.
In addition, it became known that in 2023, 3 billion rubles will be allocated from the federal budget for the construction of railway infrastructure facilities of the Murmansk transport hub, the development of which involves the creation of the Lavna terminal and railway approaches to it.
Also in September, it became known that more than 165 thousand tons of ore were extracted at the Pechegubsky deposit in three months as part of pilot development.
And the team of the region successfully presented promising projects planned for implementation in the Murmansk region within the framework of the public-private partnership mechanism.
Among them: an Arctic water park and a manege with a full-size football field in Murmansk.
Another news that attracted attention to the Murmansk region at the international level was the statement that Belarus plans to reorient part of the export of potash fertilizers to the ports of Murmansk.
This became known after the meeting of the head of the region Andrey Chibis and the President of the Republic of Belarus Alexander Lukashenko in Minsk.
In September, the number of residents of the Arctic zone in the Murmansk region increased by 9, to 173. Residents plan to implement new investment projects in the fields of industry, development, tourism and catering in Murmansk, Monchegorsk, Apatity, Kola and Kandalaksha districts.
One of the residents plans to produce materials for the needs of construction organizations in the Kola district with the help of Arctic benefits.
In total, the new projects, taking into account the additional agreements concluded in September with existing residents, will bring about 700 million rubles of investments and more than a hundred jobs.
It is noteworthy that the agreement on the implementation of the 500th anniversary project with the help of super benefits was signed on the sidelines of the Arctic Investor Day in Monchegorsk.

/ Ministry of Arctic Development and Economy of the Murmansk Region according to the Murmansk Region Development Corporation /