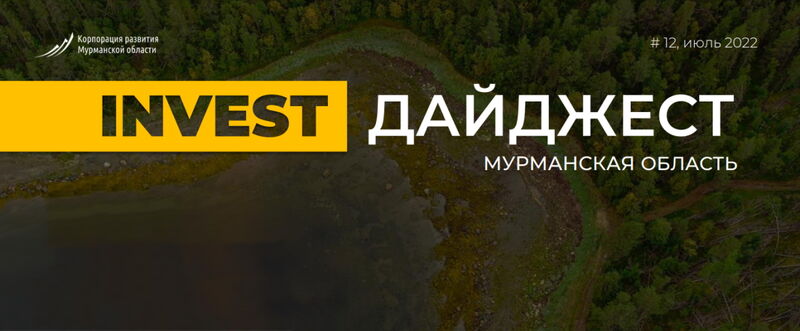 The Murmansk Region Investment Portal published a digest of events for July 2022 that most affected the investment climate in the region according to the Murmansk Region Development Corporation. All details can be found in the full version of the digest.
The new collection contains up-to-date information on the implementation of major investment projects, the results of federal ratings, the opinions of regional leaders, federal experts and independent opinion leaders.
Among the main events, according to experts of the regional Development Corporation, was the statement that the Northern Sea Route and Arctic projects will bring over 16 trillion rubles to the budget. This was reported in the Ministry of Regional Development in connection with the submission to the Government of the Russian Federation of the plan for the development of the Northern Sea Route for the period up to 2035, which was approved in early August. In addition, a landmark event related to the development of the Northern Sea Route took place in the summer - the first batch of crab was sent from Murmansk to the Far East. The total weight of the cargo was about 670 tons.
Another news that attracted attention to the Murmansk Region was the announcement that hydrogen production will begin at the Kola NPP in 2025. It is planned to produce 200 cubic meters of hydrogen per hour, which is about 150 tons per year. In addition, the head of the region, Andrey Chibis, said in July that a technopark would be created in the Murmansk Region, which would become a place of attraction for the development of investment potential in the field of information technology. The corresponding agreement was signed with JSC Er-Telecom Holding on the sidelines of the All–Russian Youth Forum "Smart City: Our Future - New faces" in Murmansk.
In addition, in July, the number of residents of the Arctic zone in the Murmansk region continued to increase. With the help of "Arctic benefits", entrepreneurs plan to build recreation centers in Murmansk and the Kola district, a diving center in the Kola district, a special equipment service station in Murmansk. Together, these projects will bring 2.5 billion rubles of investment and more than 800 new jobs.
Also in July, the government of the region announced new anti—crisis measures, this time for northerners who decided to open their own business - the amount of payment for entrepreneurial activity was increased from 250 to 350 thousand rubles.