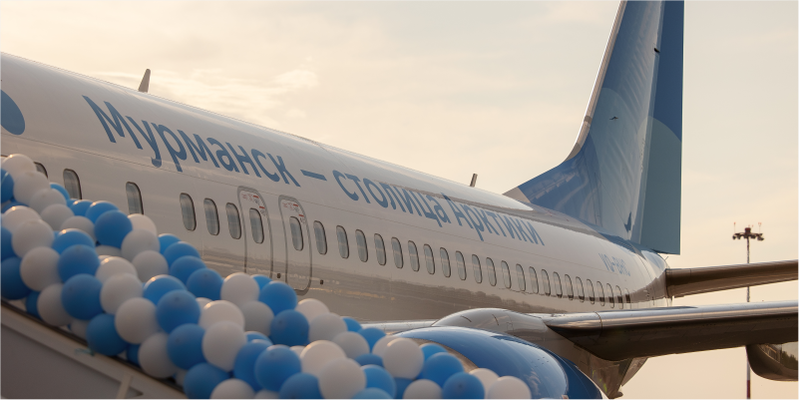 Today, a solemn meeting of the Pobeda Airlines flight with the new livery of the Murmansk – the Capital of the Arctic aircraft took place at the Murmansk Airport. The event was attended by Governor Andrey Chibis.
"Murmansk is the capital of the Arctic, this is already a recognized fact. And now this thesis is also on the plane of the Pobeda airline. And, of course, this is the promotion of our region, our hero city and Arctic tourism. This is an important element of the promotion of our Murmansk region not only on the territory of the country, but also abroad. The plane turned out to be quite elegant, our mountains, mammals, and the sea are represented on the fuselage. Everything turned out very stylishly, " said Andrey Chibis.
Pobeda Airlines and Murmansk Airport PJSC have branded the fuselage of the aircraft with the support of the regional government as part of a project aimed at popularizing the Murmansk Region as an attractive tourist destination. The main feature of the thematic livery was the seal and trout depicted on the fuselage – bright representatives of the fauna of the region. The slogan "Murmansk – the capital of the Arctic"is also presented on the sides of the aircraft.
According to Andrey Kalmykov, General Director of Pobeda Airlines, the Murmansk Region has a huge tourist potential. In 2021, the low-cost airline plans to transport more than 130 thousand customers through the Murmansk airport, which is 30% more than a year earlier. Today, travel bloggers and journalists have already arrived in the Murmansk Region on a thematic liner, for whom the regional tourism committee has prepared a special program "Polar Day".
Specialists of the Ministry of Urban Planning and Improvement of the Murmansk Region and the Center for Urban Development took part in the development of draft projects for the branding of the Boeing 737-800 airliner of the Pobeda Airline.
The coloring of the themed aircraft is made using the "Base-Varnish" technology, which increases the fuel efficiency of the aircraft by 2% due to the unique binding structure of the paint. It allows you to ensure a perfectly smooth surface of the fuselage. In addition to economic advantages, the chosen technology is also environmentally friendly: no harmful chromium compounds are used during the production of paint, and an increase in fuel efficiency leads to a noticeable reduction in emissions of combustion residues and carbon dioxide into the atmosphere.
For reference:
Pobeda started flying to Murmansk on October 27, 2019. Since that time, more than 1000 turn-around flights have been carried out to Murmansk Airport and more than 200 thousand passengers have been transported.
The liner with the new livery of the aircraft "Murmansk-the capital of the Arctic" became the third aircraft of the airline branded to promote tourism in various regions of Russia. Planes with liveries dedicated to the Stavropol Territory and the Kaliningrad Region are already flying on the Pobedy route network.

/ Ministry of Information Policy of the Murmansk Region /